Instead of an Afternoon Siesta, How 'Bout A Fiesta?!
I love color! From my plate to my wardrobe to my Instagram account, the more color the better! It just makes me feel alive and energized! You've probably heard the saying, "Eat The Rainbow," and that's exactly what I try to do at every meal! Lunch time is my favorite meal of the day, because it's so easy to incorporate tons of fruits and veggies into a juicy, vibrant salad. I'm typically able to zip home to the kitchen, whip out the cutting board, crank the tunes, and enjoy this midday meal as a break from my work. However, this (or any) salad recipe can definitely be prepped the night before or first thing in the morning to take with you wherever you venture!
The Many Faces Of Fiesta
So this is a classic that many of you have probably seen on my Instagram and other social media accounts, and you've probably eaten it with me if you've ever been in my kitchen around lunch time! Below is just a sampling of some of the many faces of my absolute favorite, raw vegan salad!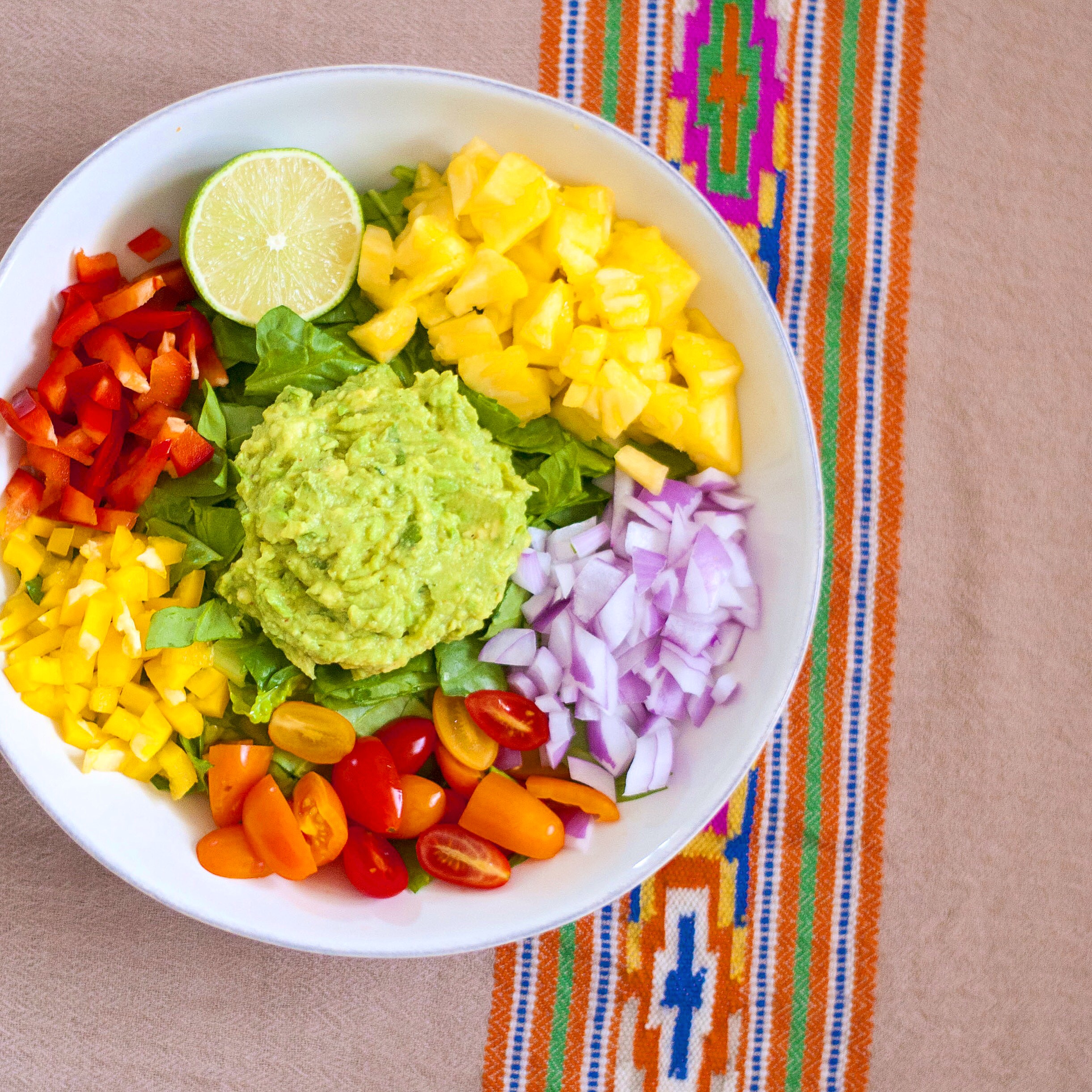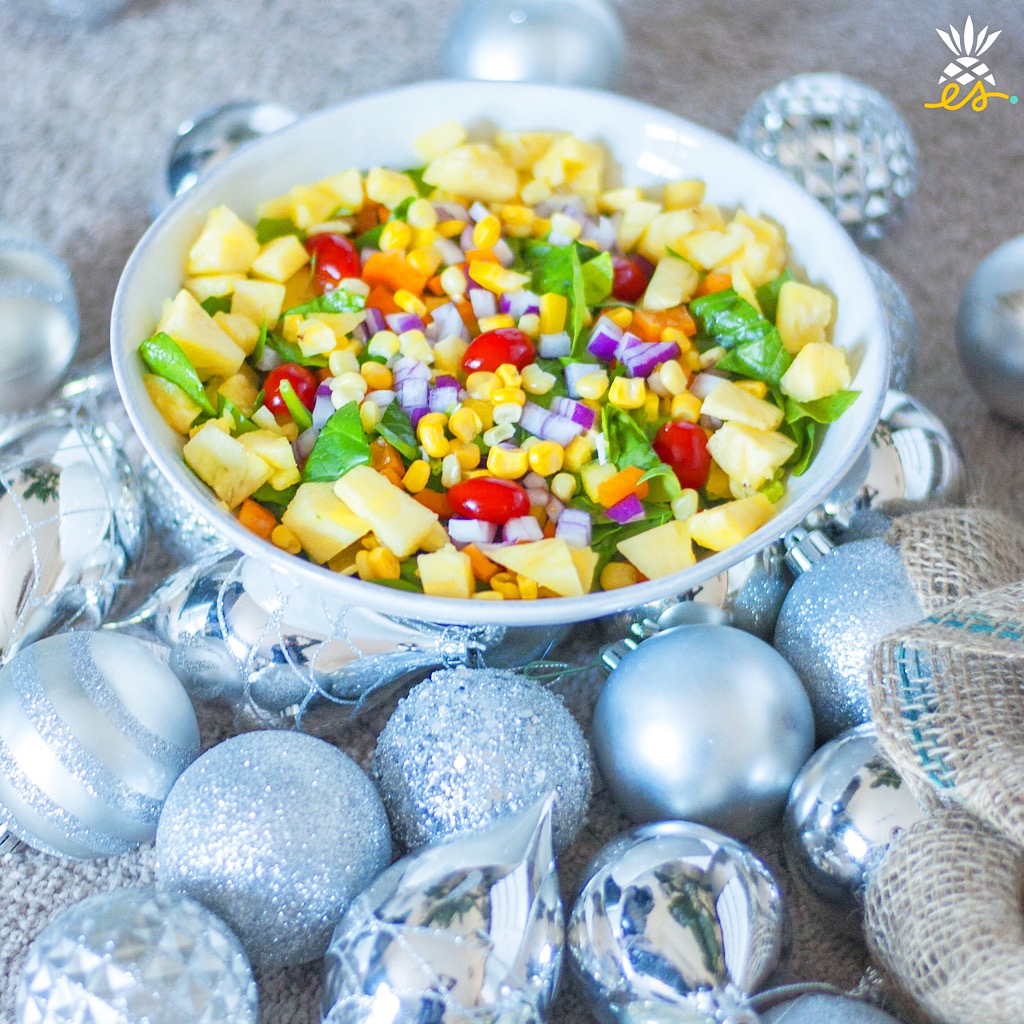 Eat The Rainbow!
We've been led to believe that we need tons of protein in our diet, and that usually leads to forking in and gulping down tons of inflammatory animal products. Virtually no human in western civilization is suffering from a protein deficiency, though. In fact, we require far less than we think, and what we're actually falling short on is fiber! All the more reason to Eat Yo' Greens! Whole Foods, Plant-Based, Vegan--call it what you want, leading physicians and researchers, like T. Colin Campbell and Dr. Caldwell Esselstyn, agree that a diet rich in fresh fruits, vegetables, whole grains, nuts, and seeds is optimal for health and longevity. If you're curious to learn more about disease prevention and reversal via 'food as medicine,' some great resources are:
- The Goods -
It may look like a mouthful (pun intended), but if you're at all curious what the colorful foods you're about to eat are good for, check out the comprehensive list below!
Leafy Greens
Most leafy greens are extremely high in vitamins A and K, as well as folate, iron, manganese, magnesium, copper, calcium and potassium. If there is one thing I've learned, it's that you can never have too many greens! A little-known fact is that they are also high in protein--Popeye knew what he was doing! In today's culture, we've been misled to believe that we need heaps of protein, when in fact, the body only takes what it needs. When the body gets more protein than it needs, it filters the rest through the kidneys, which means they're working on overdrive to remove the excess waste from the body.
Avocado
The smooth, rich, creamy avocado is actually a fruit--the only fruit that provides a healthy dose of monounsaturated fatty acids. These heart-healthy fats are said to help improve cholesterol levels, reduce risk of diabetes, stroke, and heart disease. The fats are also great for hair, skin, and nails! My view on fats is to get them from whole-food sources instead of extracted/processed oils. Think: avocado instead of avocado oil, coconut instead of coconut oil, and working in a variety of nuts and seeds. The closer you can get to the source, the better!
Mango
This juicy, sweet, tropical fruit is chock full of vitamins A and C, making it a great boost for the immune system and skin. Mango can be tricky to cut if you've never done it before. You'll want to make sure to cut on either side of the large seed that runs through the middle of it. Watch my quick little video tutorial for a fun way to cut a mango! How to Cut a Mango
Pineapple
A cup of this tangy fruit will give you more than your daily dose of vitamin C, and also contains a high amount of copper, as well as several other vitamins and minerals. Pineapple also contains an enzyme called bromelain, which fights inflammation and may reduce symptoms of arthritis and joint pain, as well as aid in muscle recovery. This fruit has got to be one of my favorites (hence the logo design), and I love putting it in my morning green smoothies, especially to recover after a hard workout.
Be a pineapple--wear a crown, be tough on the outside, and sweet on the inside!
Bell Pepper
These super-crisp and subtly sweet bells are another fruit commonly mistaken for a vegetable. They're loaded with vitamin C and A--especially the red variety, which happens to be my personal favorite! The capsaicin found in many types of peppers is said to lower cholesterol, reduce risk of diabetes, and reduce pain by combating inflammation.
Onion
This eye-watering veggie will add a savory kick to any salad, and is said to have anti-cancer, anti-allergy, anti-inflammatory properties due to compounds called allicin and quercetin. One of my favorite types of onion is the green onion. I love chopping these little scallions and sprinkling them over a salad for an instant burst of flavor that also cuts down on the need for salt.
Cherry (or Grape) Tomatoes
These little balls of flavor are yet another fruit masquerading as a veggie, that are full of juicy sweetness. Besides being high in vitamins A and C, tomatoes of all types are also known for the high amount lycopene. This antioxidant has been shown to have a profound impact on heart health. My recommendation is to get them locally at the farmer's market or grown them yourself for maximum flavor. I never really enjoyed cherry or grape tomatoes until I found out how incredibly sweet and delicious they are when they're plucked perfectly ripe and not a minute before.
Sweet Corn
This summertime staple has often been regarded as nutritionally void. However, sweet corn is loaded with fiber, as well as lutein and xeanthin, which are phytochemicals that promote healthy vision. Many people don't realize that sweet corn can be eaten raw--and I love to do just that! Simply rinse a cob of corn and shave off the kernels into your salad! I recommend buying local, organic sweet corn, to also avoid pesticide and fertilizer contamination, and to enjoy the best taste and quality possible.
Lime
Similar to lemons, these sour fruits are full of vitamin C and can help to cleanse, detoxify, and alkalize the body. A squeeze of lime in a glass of water or on top of a salad is the perfect way to add a kick of flavor to excite the tastebuds! I have found citrus juice to be another fantastic ingredient to squeeze onto a salad to cut down on the temptation to add excess salt.
Cilantro
This zippy herb is said to have preservative properties that help to prevent other foods from oxidizing when added to them. (Think--guacamole with lime and cilantro). Cilantro is also commonly known for being a great detoxifier that's effective for toxic metal cleansing. I love using herbs on my salads for an instant flavor boost without having to use salt, sugar, and oils.
Low Cal, Load Up!
A little disclaimer: Vegetables, (whole, raw vegetables that haven't been slathered in butter and oil), are very low in calories. This means load up! A 100% plant-based lifestyle is the only "diet" that isn't focused on self-deprivation or caloric restriction, rather, it's centered around abundance! You get to eat as much as you want and still feel great!
Typically before eating this salad, or one like it, I'll start with a big bowl of fresh, mixed berries or another type of fruit. Fruit is highly digestible and moves through the body at a faster rate than vegetables, so beginning a meal with fruit helps to keep digestion flowing smoothly. Eating fruit before a raw salad also helps to satisfy your caloric needs, and of course, will keep you from getting "hangry" while you're chopping your salad!
Rock 'N' Raw Fiesta!
While you're chopping, follow me on Spotify @ErinStanczyk for monthly playlists, filled with my current favorite, feel-good jams!
Check out my 'September Vibes' playlist to the right!
Rockin' Raw Fiesta Salad
raw, vegan, gluten-free, oil-free, rainbow-licious!
Who needs an afternoon siesta when you can have a fiesta?! Variety is the spice of life, and there's definitely no shortage of that in this salad! This vibrant combination of raw fruits, veggies, and herbs packs a powerful punch of flavor, which eliminates the need for processed dressings, refined sugars, salts, and oils. Raw foods are alive and life-giving. Left uncooked, all beneficial enzymes and nutrients are fully intact, providing a healthy dose of vitamins, minerals, and nourishing food for the gut. Let's rawk 'n' roll!
ingredients:
1 large handful of spinach
3-4 large romaine leaves
1 cup red, yellow, orange, and/or green bell peppers chopped
1/4 cup red onion diced
1 ear raw sweet corn cut off the cob (or 1/2 cup frozen, thawed sweet corn)
10-12 cherry tomatoes, halved
1 cup chopped fresh pineapple and/or mango
Juice of one lime
1 teaspoon to 1 tablespoon finely chopped fresh cilantro
Half an avocado thinly sliced or a couple large spoonfuls of my Basic Holy Guacamole
method:
Rinse and chop greens and place in large bowl
Add all chopped veggies
Slice mango and/or pineapple and add to salad bowl - or - in side dish tossed with fresh cilantro and lime juice to make a fruity salsa. I like to make a little extra salsa to keep on hand to dip blue corn chips in or simply eat by the spoonful!
Top with avocado or guacamole, lime juice, cilantro, mix up, do a little salsa dance, and enjoy!
optional:
Add half cup cooked quinoa for extra calories and protein
Add half cup black beans for extra calories and protein
Add 1 tablespoon of pumpkin or sunflower seeds for extra calories, healthy fat, and protein
As Seen On YouTube
Check out the accompanying EatMoveRest YouTube episode for this delicious duo! Be sure to Subscribe to the channel, give this video a Thumbs Up, leave a Comment, and Share with friends and family!
Get Some Eat.Move.Rest. In Your Life!
Go chop yourself a salad--and while you're at it, get your hands on one of my hubby's custom, hand-crafted cutting boards at DustonStanczyk.com to complete your kitchen experience!
For more daily rainbow inspiration, follow me on Instagram, Pinterest, Twitter, Snapchat, and Spotify all @ErinStanczyk and be sure to subscribe at the bottom of the website to receive my monthly 'In The Raw' newsletter, as well as special announcements and discounts on Eat.Move.Rest. apparel!
Designed For Your Lifestyle,
Erin